Jacksonville Shredding Service
Jacksonville Shredding Service is dedicated to providing cost-effective solutions for your business' security needs. We understand the need to protect your sensitive documents and for your business to comply with all state and federal regulations.
About Jacksonville Shredding Service
Jacksonville Shredding Service's providers offer numerous shredding service levels designed to meet virtually every client's requirement at reasonable prices.
We are prepared to meet your destruction needs at every level. Many of our customers start as "one-time" purges at the end of the year and grow into monthly shredding clients. We strive to find you the most competitive rates in town.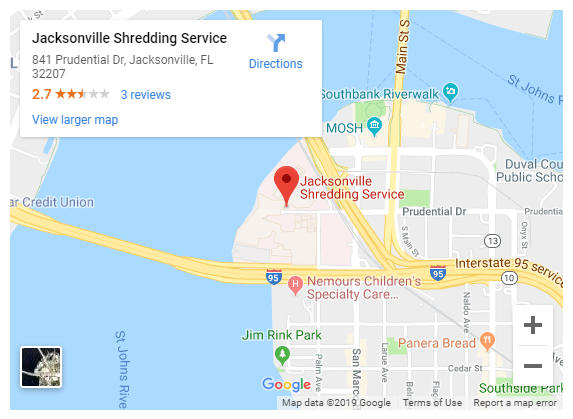 Get Free Quotes on Shredding in Jacksonville
Shredding Services in Jacksonville
Service Options Available in Jacksonville
Route Service – Daily, weekly, or monthly scheduled shredding service is available. Secure, locking shred bins are provided for free.
Purge Service – For those requiring annual, one-time, or occasional shredding service, we recommend a specially priced purge program.
Secure Shredding – Shredding services are secure.
Certified Service – No matter how your items are shredded you will get a Certificate of Destruction.